Mental Health and Wellbeing
We are very proud to be a Well School
And we believe in it's power to Transform Lives Through Learning
Theale Green School is a Well School. This national initiative supported by the Youth Sport Trust means we place just as much emphasis on wellbeing as we do on academic performance. A Well School understands that young people are more effective learners when they are happy and well and that they must take care of their staff and students' wellbeing.
Using the ALET Learning Philosophy as our foundation, our aim is that students who leave Theale Green School will go on to their next destination with a broad range of qualifications and real conviction in their self-worth. We also aim for the staff at Theale Green School to thrive in an energised, positive environment, knowing that they are valued as individuals. The graphic below shows how these three pillars build a culture and climate that enables students and staff to fulfil their potential.
But what does this actually mean in practice and for staff and students?
By ensuring that we all (staff and students) prioritise our wellbeing, we ensure that we have a well-led school, a key element of a Well school.
By ensuring that we provide rich experiences and recognition for effort, we ensure that aspiration develops within our students.
By ensuring that we provide our robust and creative curriculum (along with its broader offer), full of opportunities for feedback and success, we ensure that our students develop a strong sense of self-belief.
Read more here for specific examples of our activities towards being well-led, well prepared and well equipped.
We believe that aspiration and self-belief builds intrinsic motivation which is the foundation for resilience, self-regulation and independence. And through this, we work towards our mission to Transform Lives Through Learning, and to achieve our aims for both students and staff.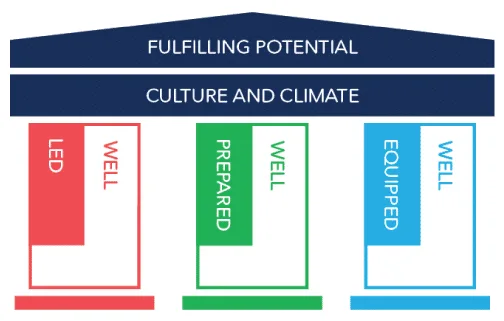 All staff and students in school should prioritise their well-being
Students need a wide range of experiences that will prepare them for life after school and enrich their school experience​
Students need a wide range of skills and knowledge to prepare them for today's and the future's workplace​