Talented young performers wowed three packed audiences on Monday and Tuesday in the last week of term with their fabulously silly version of Aladdin.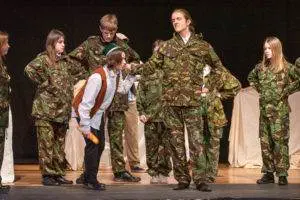 The fabled country of Thealonia was brought to life on stage with brilliant performances from all of the cast, including stellar turns from Lauren Clifford as the titular hero; Alex Moore as the mesmerisingly evil Vizier; Chris Cox as the bumbling Sultan; Livy Webb as the angry Princess and a host of many others…
The band, led by Mrs Coombs, played toe-tapping versions of the updated songs that showed off real skill and flair.
Theale Primary School visited for the Tuesday matinee and were a splendid audience, really getting into the spirit of the pantomime and enjoying every minute! They were buzzing when they left! Oh yes they were!
As for the evening performances, Head of School Mrs Badarello said: "I thoroughly enjoyed myself, particularly the jokes (!) – and I know the rest of the audience did also. The entire performance was slick and professional, with great acting, singing, musical excerpts… the list goes on."
Join us again on 13 and 14 July for the Bradfield Greeker shows.