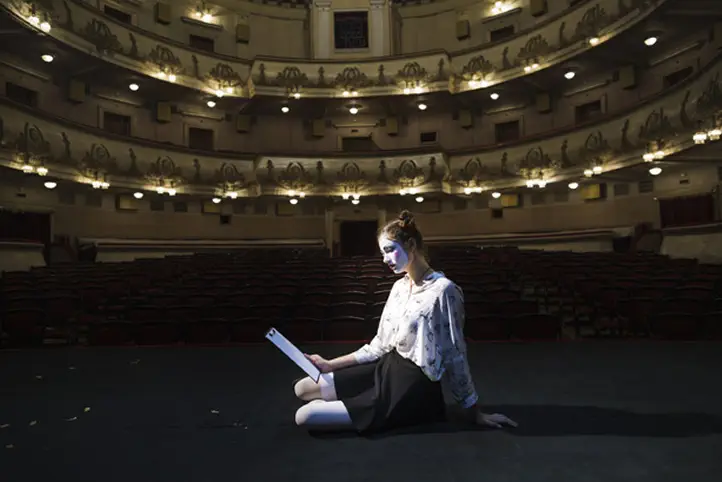 "Imagination is more important than knowledge. For knowledge is limited to all we know and understand, while imagination embraces the entire world, and all there ever will be to know and understand." Albert Einstein 
This quote sums up our philosophy on Drama and Theatre at Theale Green School. For the world's most famous scientist to appreciate the need to nurture and develop the power of our imagination and our creativity, beyond the vital cultivation of knowledge and skills, tells you why Drama is such an important subject. 
Our curriculum is designed to explore and develop Drama skills in a safe and positive working environment in order to promote knowledge and understanding of Drama as an academic subject.  Our aim is to develop well-rounded and resilient individuals who are able to make a valuable contribution to our society and communities, engendering an appreciation of human creativity and achievement. 
Key Stage 3
At Key Stage 3, students are encouraged to explore a variety of performance styles including pantomime, melodrama, and commedia dell'Arte. There is focus on performance skills, developing oracy and also diplomacy and empathy as the majority of work is completed in groups.  
Students are assessed in three areas: 
Creating – the

 ability to work together to create a piece of performance

 work and the

 creative input into that process.

 

Performing – the ability to present a

 performance to an audience.

 

Evaluating – the

 ability to analyse and evaluate their own work and the work of others.

 
GCSE
At GCSE we follow the OCR specification for Drama (J316) https://www.ocr.org.uk/qualifications/gcse/drama-j316-from-2016/ 
Taking Drama at GCSE shows that you are creative, it shows you are able to present and it shows that you are able to work with others to create a product for a target audience by a deadline.  The GCSE Drama course is an exciting opportunity for students to develop a wide range of acting skills and an understanding of performing in the theatre. The course is 60% practical and 40% theory. 
Students will research and explore a stimulus, work collaboratively and create their own devised drama which they will perform.  They will develop and apply theatrical skills in acting by presenting a showcase of two extracts from a performance text.  Students will also explore practically a performance text to demonstrate their knowledge and understanding of drama as well as analyse and evaluate a live theatre performance. 
A Level
At A Level we follow the Edexcel specification for Drama & Theatre Studies (9DR0) https://qualifications.pearson.com/en/qualifications/edexcel-a-levels/drama-and-theatre-2016.html 
The course is very practical with a strong emphasis placed on performance at all times. Even the written elements are based on your own performances, performance ideas or performances you have seen. You will study a variety of plays, styles, and practitioners as well as theatre from different time periods and political ideologies. 
Component 1 – Devising (40%) This component will require you take part in devising and performing an original piece of performance work. You must also submit a portfolio. All aspects are marked by your teacher. 
Component 2 – Text in Performance (20%) You will be required to perform a piece from a script that is chosen by your teacher as well as a monologue of your choice. This component is assessed by an external examiner. 
Component 3 – Written Exam (40%) You will sit a written exam in which you will answer questions about live theatre you have seen and also about how to direct scenes from plays that you study. 
Career links
This is a subject that more and more employers look for on a CV. It lets an employer know that you have a certain set of sought after skills. 
Studying drama can obviously lead to a career in acting and/or directing but it is by no means limited to these. Students who study drama can go on to become journalists, barristers, television/radio producers, designers, stage managers, presenters, teachers, writers to name but a few.