Theale Green School played host to a special visitor last week when the (then) Secretary for State for Education, Nadhim Zahawi, dropped in.
Mr Zahawi visited the school, known for its focus on sports and arts, on Thursday, 23 June, ahead of a Government announcement at the weekend revealing a multi-million-pound investment plan for sports and music education.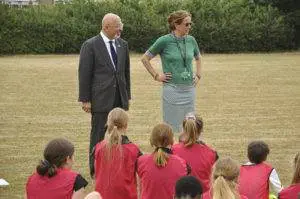 During his visit Mr Zahawi was shown around by headteacher Joanna Halliday. The Education Secretary was noticeably impressed with the school, which, following an incredible transformation over the years, has just received a Good Ofsted rating – something the entire school is justifiably thrilled with.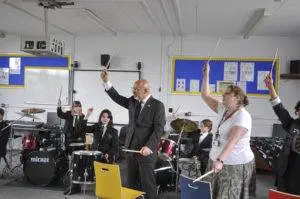 Mr Zahawi proved to be no mere spectator when he joined Year 6 children from local catchment primary schools in a competitive game of speed-stacking, cheered on Theale Green School's Year 7s in a game of Capture the Flag and participated in a loud and lively drumming session!
Following the event Mr Zahawi appeared in a short video on his social media channel saying: "We're at Theale Green School – an incredible turnaround story. The focus on music and sport has been very part of much the ethos of this incredible school.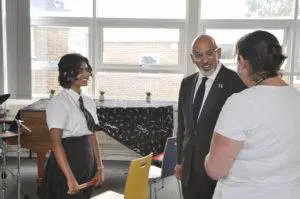 "We are announcing a £400million investment in sports and music education and £320million in the PE and sport premium to enable schools to deliver the sort of work this incredible school has been delivering."
In the announcement, the Department for Education (DfE) has promised £25million in new funding for musical instruments – which would allow schools to buy around 200,000 instruments – and extended funding of £79million a year for music hubs until 2025. Schools will also be asked to offer at least one hour of music curriculum a week as part of the launch of a new National Plan for Music Education.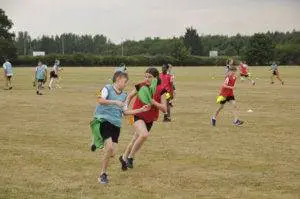 As part of the School's White Paper to provide children with an enriching school curriculum, the DfE has also confirmed its £320million PE and sports premium for primary schools will be extended for at least another year from September. £11million will also support the continuation of the School Games programme to give particularly passionate and talented young people the opportunity to participate in competitive sport.
Mr Zahawi said: "I want every child to have the opportunity to develop a love of music and the arts, so they can explore their passions and fulfil their potential. These opportunities will give thousands more pupils access to an ambitious, enriching curriculum that not only supports them academically, but also supports their physical and mental wellbeing."
Theale Green School places high value on the positive impacts that participating in sport and music can bring so was the ideal place for the Education Secretary to visit prior to his announcement. The school is part of the Well Schools Movement, a national community of professionals who believe that wellbeing should be at the heart of education. It also works closely with the Youth Sport Trust charity, for which it won the Outstanding Secondary Practice Award at its 2022 conference.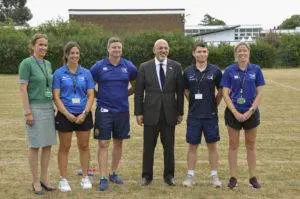 Ali Oliver, MBE, CEO of the Youth Sport Trust, who was there for Mr Zahawi's visit, said: "At the end of a really successful National School Sport Week, we welcome confirmation of this funding for primary schools across England. We would like to take this opportunity to thank those working in and with schools who have maintained momentum, keeping children active and schools moving.
"Unhappy and unhealthy children don't learn, if children don't learn we won't have a society fit for the future. The Youth Sport Trust is working to build back play, physical activity, and school sport in children's lives, helping them to balance the demands of a digital age, and create societal change when it comes to the place and value of PE and school sport. Today's announcement is a positive first step toward this."
Headteacher Mrs Halliday followed up the visit with an enthusiastic thank you to all those who had made the event run smoothly, saying: "It is terrific news to hear that this Government are recognising the need to focus on children being happy and having fun as part of their daily diet in school. We want every child to able to be active and recognise what their body and mind can achieve through both sport and music and we were privileged to demonstrate this first hand the Mr Zahawi and his team. Our students of course put on a breathtaking display with their usual energy and enthusiasm and I could not have been more proud of them. They are an absolute reflection of the empowerment that sport and music given to young people."