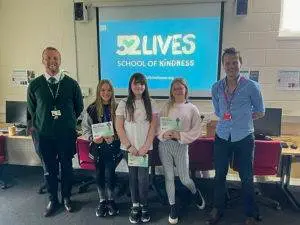 Everyone at TGS learnt valuable lessons about the importance of kindness at a special event to mark Mental Health Awareness Week (9-13 May).
The School of Kindness from 52 Lives visited Years 7 and 8 and also spoke with an audience of parents, staff, governors and children after school.
At the event, the 'science of kindness' was explained and the students were asked to write love letters to themselves to be returned on the first day of the autumn term. Students were taught about being generous and considerate, and how meeting unkindness with kindness can change the world.
Headteacher Joanna Halliday said: "Kindness without doubt is an aspiration for both the physical and mental wellbeing of every community, and we are keen to see what we can do…"
Find out more about The School of Kindness here