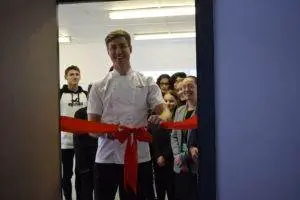 It was back to school for BBC MasterChef:The Professionals finalist Matthew Ryle as he opened Theale Green's refurbished Food Technology facilities.
The former pupil cut the ribbon on the school's recently updated food education kitchen on Friday 11 October.
Staff and parents came together over the summer to equip the new facilities and put food education firmly back on the timetable.
Essential food preparation skills and knowledge is being taught to Years 7, 8 and 9. On the curriculum will be safe working practices, food hygiene and eating a healthy and balanced diet. Additionally, pupils will undertake design and cooking challenges that could produce the next generation of MasterChefs!
Headteacher Joanna Halliday said: "To have Matthew here, showing food preparation skills to our pupils in the same kitchen where he used to have his lessons has just been terrific.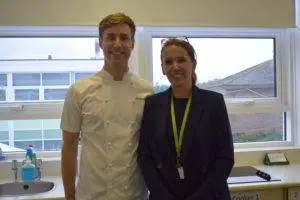 "We're so excited because a year ago we made a commitment to put food back on the curriculum here at Theale Green School and that is exactly what we have achieved through a huge amount of teamwork.
"So many people have helped us get to where we are today. The parents have been amazing and have rallied round to help us by equipping the kitchen. All the staff and pupils have really embraced this opportunity and food is once again at the heart of our curriculum."
Chef Matthew Ryle said: ""It feels great to be back at Theale Green school. It's bringing back lots of great memories. Hopefully I've got the pupils to think about professional cookery as a career because as an industry we are short on chefs at the moment.
"The school was very supportive of me wanting to become a chef, so I had lots of great lessons and it just gave me the opportunity to try cooking. You learn a lot of other things while you're cooking; you use maths and it's a fun hour in your school day.
"I cooked a lot here but the one thing I do remember is the Lisa Simpson cake which was one of my specialities. It was pretty spot on!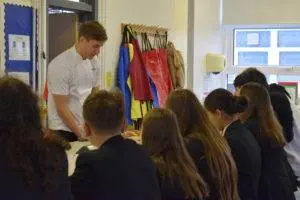 As for his plans for the future, Matthew says: "I'm opening a restaurant in April next year which will be in Mayfair, London. It will be a hundred cover restaurant while downstairs has a different concept with a wine cellar and private dining room."
Year 11 Pupil Deva Douillet said: "I've always wanted to be a chef. I love French cuisine and in the future I'd like to open my own restaurant.
"Matthew has inspired me today because he has shown me that it doesn't matter where you are from or how you start, if you really put the work into it, you can do anything you want.
"I think that it is very generous and very thoughtful to do all of this for the students."
Year 9 pupil Adriano Merra said: "It was really interesting to see Matthew come back just for us and to teach us how to move forward with how to cook. I'm really thankful to him for coming over and doing this for us."
"I'm looking forward to making scones as I've never baked them before."
Lydia Hitchcock, a year 9 pupil added "When I joined Theale Green food tech wasn't on the timetable, so when I found out that this year it would be, I was really happy because it is a subject that I really enjoy."
Theale Green School would like to say a huge thank you to Matthew, and to all the parents and the community for their continued support and making this happen.