Last night marked the first open event of the academic year, receiving an excellent turn out from prospective students and their families.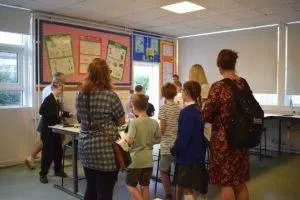 Visitors had the opportunity to take a tour of the school and its departments, which were set up with displays and activities, and an area to speak with staff and current students about studying particular subjects and to hear about what life is like at Theale Green School.
As well as the departmental activities, there were also students playing the piano as visitors walked in and the canteen setup with refreshments, giving a wonderful atmosphere to the evening.
Headteacher, Jo Halliday ran two talks in the Assembly Hall at 5.30 and 6.30pm, as well as Year 7 student Lawrence standing up to talk about his experience.
Thank you to all who came along and made the event such a success.
If you would like to see the school in action, or missed this event, we are holding open mornings all week from Monday 1st – Friday 5th October, 9-10.45am. Please see the website for more details. No need to book.