Around 40 pensioners from the local community enjoyed tea, cake and entertainment at our annual tea party last week.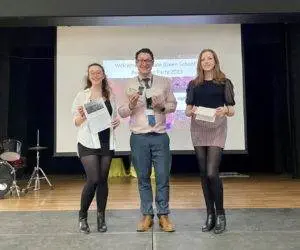 On Wednesday 22 March, our the TGS school community pulled together to create a fabulous event, with our head team, Kyra Radley and Chloe Sanger, doing an incredible job of leading and organising the event.
Visitors enjoyed taking part in a quiz, bingo and watching a live performance – the music by Alfie Hopcroft was delightful, and Alex Moore's performance from the production of Aladdin was enchanting.
The delicious treats were catered by Mrs Cartland's Year 10 hospitality students, and all of the guests commented on the quality of the food provided.
We are really proud of the students' contributions to this wonderful event, and thank you to the local businesses who showed incredible support with prizes for bingo, including Renegade Brewery, The Bull in Theale, Burghfield Spices, Wokefield Park and Starbucks.