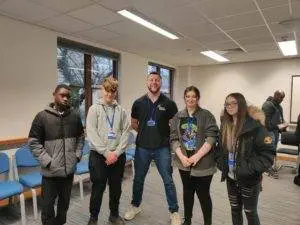 Four of our amazing young people did themselves and TGS proud when they represented the school in Guildford at an AQA Unlocking Potential Event.
Last year, TGS was fortunate to be accepted onto the highly esteemed AQA Unlocking Potential programme, in partnership with the Dame Kelly Holmes Trust.
Around 80 schools applied that year and we were selected as part of 10 schools in the south of the UK.
This project involves four young people here at school, from all different walks of life, working with an Olympian mentor, GB and Irish Judoka Ben Fletcher.
Ben has been working with these pupils in school to help them realise their potential and overcome obstacles, as well as guiding them in setting up a community event, which will take place in the summer term.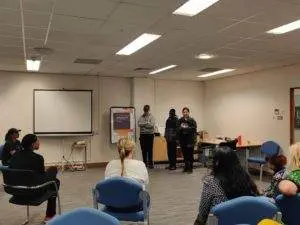 Ben, alongside Wellbeing Lead Patrick Wall and Science Co-ordiantor Rasha Jomaa took the students to the event in Guildford on March 1, where they presented an exciting social action project to a small group of people. Special well done to Frankie, who presented to the entire group by herself!
Patrick Wall said: "It has been great to see our students engage fully in the programme so well with Ben in school, as well as making strides to make new relationships with their peers on this programme, as well as pushing them out of their comfort zone. I am really excited and proud of the social action project that they have come up with and cannot wait to see the positive impact this could have on our Theale community."
For further information on the programme, please visit:
www.aqa.org.uk/about-us/what-we-do/unlocking-potential
See more our about our Well School Framework at:
https://www.thealegreen.w-berks.sch.uk/a-well-school/
Students selected for 'transformational' mentoring programme | Theale Green School