Student Support at Theale Green School 
How do we support our students at Theale Green School?
At Theale Green School we take the responsibility of educating and caring for our students very seriously. Pastoral care is therefore fully integrated throughout the whole structure of the school and engages all members of the school community as providers of pastoral care.
We believe that happy, successful students will become confident and independent learners. At Theale Green School all students will be known by their name, and staff will spend time speaking to them outside of the classroom about their successes, interests, and future ambitions.
At Theale Green School we have a three-stage approach which supports all students: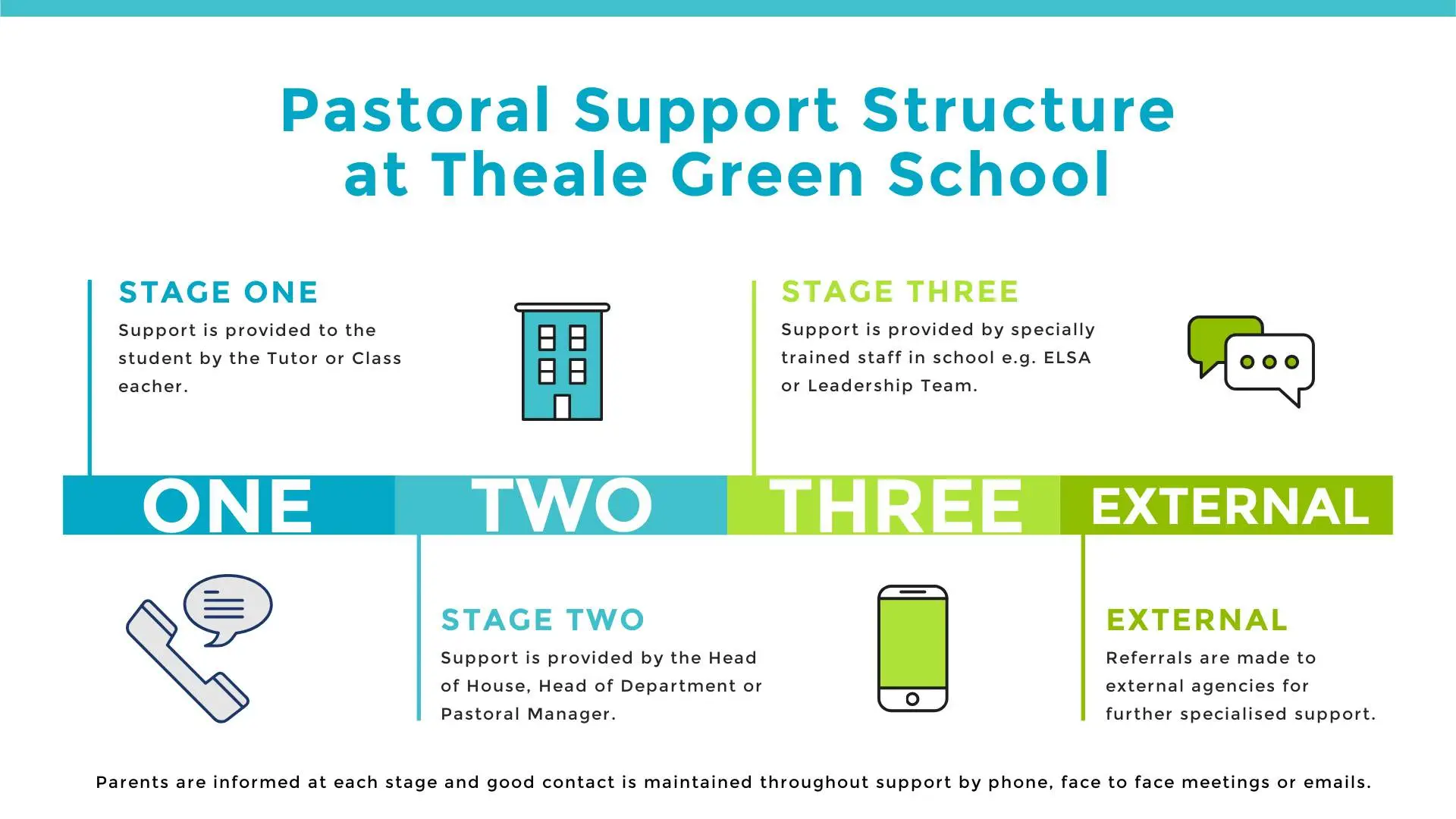 The care and welfare of our students starts with the tutor who supports a group of students, throughout their time at Theale Green School. The tutor is your first point of contact and will be able to answer any questions or queries you have. Tutor groups will remain the same throughout the students' time at Theale Green School. This allows the students and staff to get to know each other on a deeper level. Students will see their tutor every day. Tutors will also:
Deliver a clear, structured tutorial programme which promotes engagement, British Values, and positive wellbeing.
Encourage high standards of attendance, behaviour, and uniform.
Support students with organisation and preparation for public exams.
Offer opportunities for mentoring and reflection.
Monitor progress and support students to achieve the best possible outcomes.
A Pastoral Manager is assigned to each Key Stage and are non-teaching members of staff. Students may be referred to the Pastoral Manager for additional support. Our Pastoral Managers are trained in Mental Health and Wellbeing, Therapeutic Thinking, ELSA, and Restorative Practice.
How Do We Support Our Students to Achieve Their Best in the Classroom?
Alongside the Theale Green Ways and Teaching and Learning Strategy teachers have a range of strategies to promote positive engagement and disruption free learning in the classroom.